You want your packaging to "pop". You want your packaging to look great even after repeated handling by curious customers! Coatings play a important role in reaching that goal.
During the manufacturing of your custom box, a coating and finish will be applied. These are used to protect and give your packaging a certain "look".
There is a lot to be said about coatings and finishes. It can easily get very technical and overwhelming. But my purpose here is to arm you with some knowledge and questions to ask your packaging manufacturer so that you can get exactly what you want out of your product's packaging.
There are basically two main types of coatings for packaging:
Aqueous (AQ)
U.V. Coating
Both coatings offer different degrees of glossy and matte finishes as well as "soft touch". The "finish" gives the coating its shininess (glossy) or dullness (matte). Both coatings offer packaging protection with various levels of durability.
Aqueous Coating (AQ):
By far the most popular, and considered the default coating unless you request otherwise, aqueous coatings are less expensive and this is really the biggest benefit to using them. Some are also food safe and FDA approved. So depending on your product, an aqueous coating might be necessary for your packaging.
U.V. Coating:
The U.V. stands for Ultra-Violet, where ultra-violet drying lamps are used to cure the coating. These coatings are more expensive but offer a lot more in return.
Here is a list of advantages:
– the finishes are more pronounced and effective than aqueous –  makes colors look richer, shinier glosses, duller mattes (in a good way), the "soft touch" is more elegant looking and feeling
– more durable – protects against scuffing and abrasions
– more options – textures, glitter, scents
Combining Finishes
Often the best way to give your packaging "that extra something special" is to combine finishes. For example, using a matte finish overall, but including a small area of gloss (i.e. for a logo), called "spot gloss" (see image below). This can be done with U.V. coatings and Aqueous coatings, but it's better and more effective using U.V. coatings.
Things To Be Aware of When Choosing Coatings for Packaging:
1. Quality & Options Vs Cost
U.V. is going to be more expensive than AQ. But U.V. will look more striking and offer more options for textures etc. Does your product's packaging really need to be top notch? That depends on your product and your competition.
2. Durability
Will your product be handled a lot prior to purchase?  U.V. coatings are more resistant to scuffing and abrasions.
However, If you opt for a "soft touch" coating (which feels like suede and is very luxurious) be aware that it is prone to scuffs, unless multiple layers of the coating are applied (at a higher cost). Also, black tends to show scuffs more prominently than other colors, so don't choose black if you can avoid it.  "Soft touch" may not be a good choice if your product will be "man-handled" during fulfillment or transit before the customer sees it.
3. Fingerprints
Certain coatings can sometimes cause fingerprints to be very pronounced. Some packaging have gorgeous matte or high gloss finishes that, unfortunately, show every fingerprint from every person that has ever touched it – not very pretty, especially if your product is high-end and packaging presentation is everything. Fingerprints tend to show up most on black and dark colors.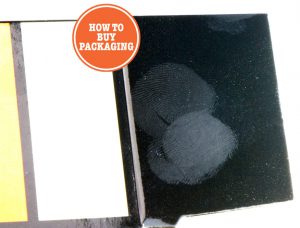 If your product will be kept in a display case away from the public's general handling, this is not a concern for you. Talk to your packaging printer and ask to see samples of various coatings that they offer and test them for fingerprints, if that is a concern to you.
4. Odor
Some U.V. coatings can have a strong stinky odor. It depends where you get your packaging from. U.V. coatings can also purposefully include a pleasant aroma or fragrance to add to the product's appeal. One you pay for and the other is an unfortunate consequence. But again, ask your packaging printer to show you samples and make sure your packaging doesn't come with a strong unwanted odor. (This is not very common. I've never encountered it personally, but I've heard of it happening in lesser quality printing shops)
In a Nutshell
The default coating that you'll likely be quoted on (unless you request otherwise) is "Aqueous semi-gloss". This is a good overall coating and less expensive than U.V. coating.
U.V. coatings look more impactful and offer more options, but cost more.
U.V coatings are also not very environmentally friendly, both the final packaging and the industrial process of using them.
You should always consider cost, durability and overall visual impact when deciding on coatings for packaging.
In addition to coatings, there are also other exterior embellishments that should considered to add some extra appeal to your packaging. Check out this article for some additional inspiration.
Copyright secured by Digiprove © 2015-2016 Sara Torres-Greasley