A Cutting Die is necessary for the creation of custom boxes. Its purpose is to cut out the exact, specific shape and dimensions of your packaging.





The Cutting Die:
This tooling is required for anything that uses flat sheets like paperboard or foam. This generally means custom boxes, i.e. folding cartons, rigid boxes (set-up boxes), or corrugated boxes (including temporary POP displays – "Point of Purchase" displays).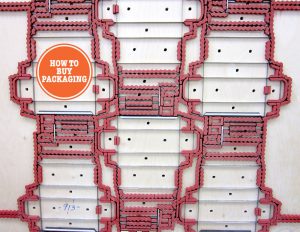 These dies are composed of metal strips called "rule". The rule is sharpened for cutting through the paperboard (or chipboard or corrugated fiberboard) or left slightly dull for scoring areas used for the closing flaps of the folding carton for example, and any other areas where the box will naturally fold.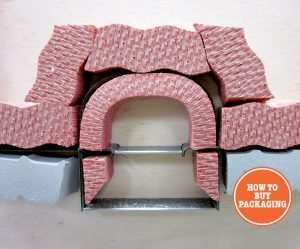 The foam is used to hold the paperboard in place, keep it from tearing, and to assist in the punching out or stripping of the cut areas of the box.
So once the paperboard has been printed on (with your packaging graphics etc) it is then brought to a cutting machine where your cutting die (the tooling you paid for) is mounted. Then it will be pressed against the printed paperboard where your customized box shape will be cut out and defined.
And here's the folding carton box that was cut-out by the mounted die shown above:
Some printing machines have a cutting and gluing component build into them. In those cases, the die cutting is said to be done "inline". All this means is that the printed paperboard doesn't have to be physically moved to a separate machine or assembly line for die cutting, as it's all done on the same machine. In either case, of course, a customized cutting die is still required.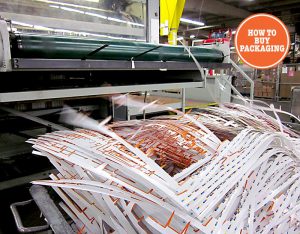 The above image shows a die cutting machine in action. The excess board that is stripped away (visible in the above image) is recycled (considered post industrial waste in the world of packaging recycling).
Some packaging manufacturers make their own dies "in-house" or pay another company to make it for them. Below is an image of a cutting die in progress. These dies are handmade, with machine assistance, of course.
So, as you might expect, once the cutting die is made and you decide to change something about your custom box that alters the specifications of it, a new die has to be made.
Cutting dies are standard in the world of custom boxes (folding cartons, rigid boxes, corrugated/shipper boxes, POP displays). Don't be surprised by them. Everywhere you go for custom box packaging a cutting die will be required (except with very low volumes where your boxes would be CAD cut instead, but's that's a different blog article).
Copyright secured by Digiprove © 2016 Sara Torres-Greasley