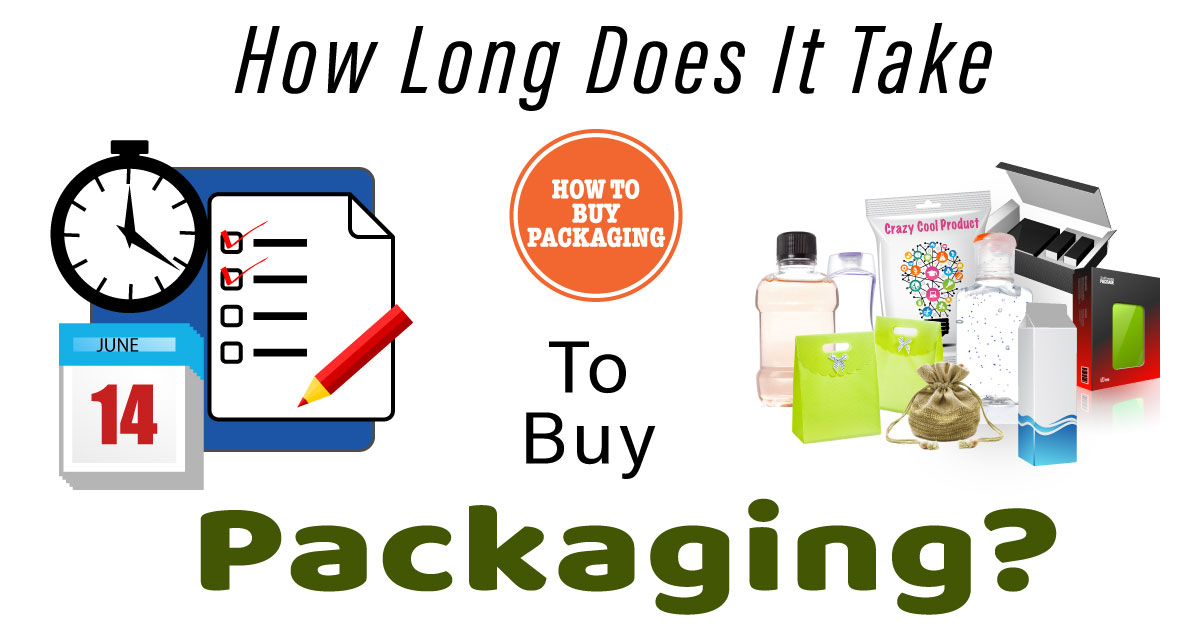 How long does it take to buy packaging? That's a question I am often asked. People have varying assumptions about the length of time it takes to buy packaging and also may be under certain time constraints. The following, of course, only refers to custom packaging.
In the packaging industry, "how long it takes" is known as Lead Time.
But "lead times" are often stated describing the various stages of the packaging buying process.
There are 2-3 distinct stages to buying custom packaging and each with its own lead time.
1. Preproduction
2. Production
3. Postproduction (maybe)
It must be stated that the type of packaging and where you buy it are important factors. Certain types of packaging simply take longer to manufacture. For example, flexible packaging (stand-up pouches) generally takes longer to manufacture and one typically needs to buy them overseas which also adds time to the buying process.
1. Preproduction
Preproduction includes: finding possible vendors, receiving and evaluating price quotes, structural design and approving prototype and/or proofs.
Finding Possible Vendors: A person should be able to research and request price quotes in 1-3 days.
Receiving and Evaluating Price Quotes: It could be 1 hour to 3 days to receive a quote. It just depends on the company. Be a little bit patient here, it could pay off. Just because one company returns a price quote quicker than another doesn't really mean one company wants or deserves your business more than another. The proof will be in the price quote itself, how well you can properly evaluate it, and the helpfulness (not necessarily speed) of the company in replying to your questions and concerns. I know in today's world we all want and expect everything immediately, but I wouldn't want my potential packaging vendor to be so focused on speed, in order to get my business, that they drop the ball everywhere else in this buying process.
Structural Design – Approving Prototype and or Proofs: Depending on how complicated your packaging requirements are, this could take 2-4 weeks if all goes well. It's not uncommon to work on a design for months, again, depending on the complexity of the packaging. If you have your design and die line already and simply need to sign off on proofs, this could take 1-2 weeks.
2. Production
Most packaging manufacturers will tell you their lead times, which is the time it takes for them to manufacture the packaging and have it arrive at your doorstep (if they are taking care of the transit for you).
These lead times will vary depending on:
how busy the manufacturing facility is (meaning how many others are ahead of you in the production queue)
what your volume is (a larger volume sometimes requires more time depending on the capabilities of the manufacturer)
how complex your packaging is (will it require a lot of "hand labor"?)
how significant are you as a client? (it's sad but true that a more important client will jump the queue and send you back even further).
Also, if you have any special requests of the manufacturer such as specific packing instructions etc. this may also increase production time. So make sure that you mention this well in advance.
When the manufacturer gives you a lead time, be aware if they are the including transit time or not. If they are not including transportation, you will be required to take care of that.
Production lead times WITH transit:
Corrugated: 3 days to 2 weeks
Boxes (Folding Cartons): 10 days to 4 weeks
Custom or Made-to-Order Bottles: 4-6 weeks
Rigid Boxes (Set-Up Boxes): 5-8 weeks
Flexible (pouches and rollstock): 4-12 weeks
3. Postproduction
This generally only concerns transit time. Often the manufacturer will take care of all or part of the transportation, which should be included in the lead time they give you. But if not, you will have to arrange for transit for your packaging.
Transportation ONLY lead times:
Overseas: 1 month (Typically if you buy from overseas, the transit will be included at least up to the nearest port.)
By train: 1 to 2 weeks
By truck: 1 week
By UPS: (single boxes) 3-5 days
SO…HOW LONG DOES IT TAKE TO BUY PACKAGING?
3-4 weeks on the short side (corrugated boxes or folding cartons or simple rigid boxes)
4-6 months on the long side (flexible packaging or complex rigid boxes)
Copyright secured by Digiprove © 2015 Sara Torres-Greasley