If you print the same color document on two different printers, say at home and at work, do you notice a difference in color with the two copies? Chances are there is a huge difference. The same color variation is often a big problem for printers or packaging manufacturers. Achieving consistent color in packaging or other printed marketing materials from project to project can be a constant struggle.
As an example, "Tiffany & Co" has a turquoise color that is a major part of their brand and absolutely essential to the company's identity. Getting that EXACT SAME COLOR with every run of their packaging is a top priority for them. If their packaging varies from batch to batch, it lessens the visual impact of their product as well as consumer confidence. If you had two Tiffany & Co boxes and the colors didn't match, you would be possibly wondering if one was a counterfeit product.
Printing is tricky business, it is an art form as much as it is a science. The human eye can detect incredibly subtle variations in color with a side by side comparison.
Packaging manufacturers hire professional press men who know color and the mechanics of a modern press machine. They have special tools to help them calibrate the color from beginning to end of the manufacturing process.
If you are unfamiliar with color processes used in packaging printing and want an simple explanation, check out my article here.
How Can a Company Ensure Their Color Will Match Each Time They Print Their Packaging?
There are a few ways.
One way is to get an ink company to create a custom color for you. However, if you change packaging manufacturers or printers, you have to make sure that the new manufacturer is able to use this particular ink company.
Another way is to use a premium paper. I have a good article here about the advantages of using premium paper, and color consistency is one of them.
Arguably the best and easiest way to achieve consistent color in packaging, as well as your other marketing material, is to use standard colors as produced by Pantone Color Books. These books are widely used internationally.
As a packaging professional, the best tool I recommend for graphic designers, marketing professionals, print coordinators or companies looking to establish a solid brand identity, is a Pantone Color Bridge book.
This book standardizes the 4 color process to any Pantone color, and vise versa.

Imagine that you have artwork for your product's packaging that is going to a new packaging manufacturer. For years your logo has been a certain gold and purple. There are thousands of variations of gold and purple colors, so how can you ensure the new company will print the correct matching color? Use the Pantone Color Bridge book to manually match up your gold and purple from your, ideally, perfectly printed older sample of your packaging. The pressmen will be able to make sure these colors match because you will have given him the correct Pantone number that he can use.
Now let's say, you need to print a photo image on your packaging or other marketing material. You'll want to use the 4 color process (CMYK), which is needed for a photo image. You also want your two PMS (Pantone Matching System) colors for your logo of purple and gold. But you are only going to use the 4 color process and not PMS colors (for various reasons such as the printer can't use both or you just want to save money). Pull out your Pantone Color Bridge book, look up the 4 color process equivalent (CMYK) of your purple and gold colors, and tell your printer to match that color, which is set as the closest possible color match by the Pantone company – there are no other color combinations that will get close to matching 4 color process colors.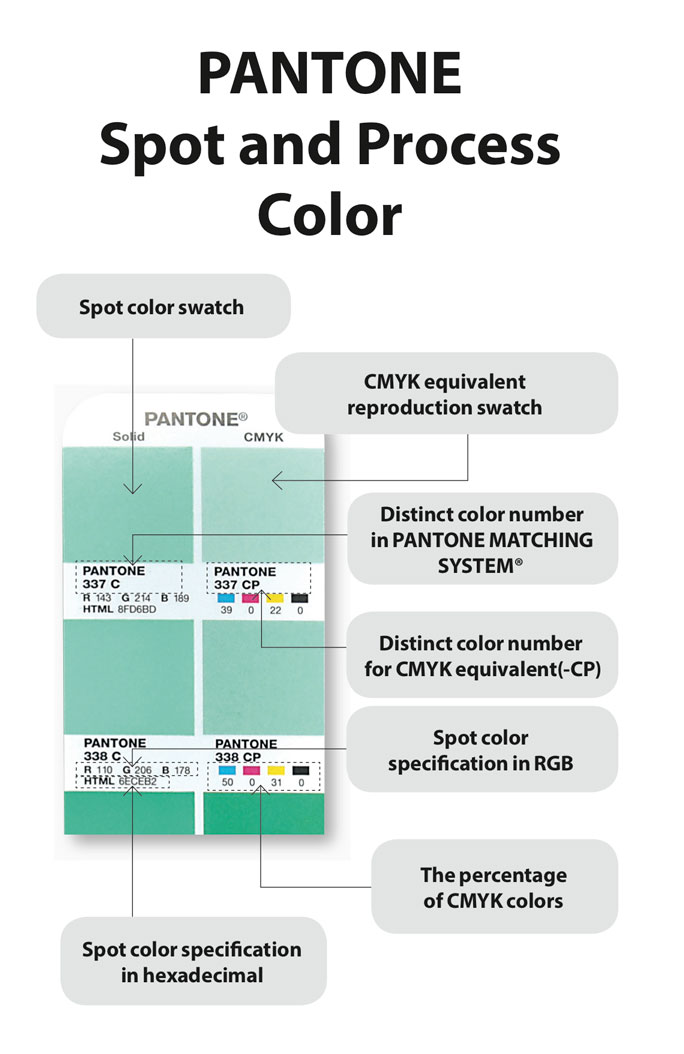 Using Pantone colors ensure that you will get the color you expect to receive from a new print project, whether it's from a new printer or the same printer. Pantone books help you to see your color target before it goes to print.
Pantone books come uncoated or coated (basically, matte or glossy), specialty colors, metallics etc. The book we recommend is the Pantone Color Bridge (coated) book because 90% of packaging print has a coating. This book or guide is essential when you are working with different printers / packaging manufacturers / printing methods, in order to achieve a consistent color match and brand identity.
For a detailed PDF download of Pantone information and products click:  Pantone Color Matching System
Copyright secured by Digiprove © 2015-2017 Sara Torres-Greasley