Costco has a fine-tuned system (as do all the "Club Stores") which is very important to their success. So it's no surprise that this system necessitates very strict packaging guidelines that all vendors must adhere to in order to be featured in their stores. When the day comes that you find yourself needing packaging for Costco, your Costco buyer should be able to give you guidance with regards to their packaging and palleting rules.
But finding the right packaging manufacturer or supplier who has the proper experience and intimate knowledge of Costco's rigorous packaging expectations is vital to your overall success.
Costco will need to approve the "look and feel" of your product's packaging, including the graphics, prior to production. To gain approval from Costco, you need to supply them with a production-quality sample of the product in the packaging, a display tray sample, and a detailed schematic of the unit/pallet load for shipping.
Costco will not, however, approve the structural integrity of the packaging. That is your responsibility.
Costco receives products at their depots and then ships them out on the same day to their warehouses. Your packaging must hold its structural integrity throughout this supply chain and, ultimately, onto the sales floor (which creates it's own set of demands on your packaging's solidity). In fact, when testing packaging for Costco, it's important to not only conduct shipping tests, but simulated sales floor trials as well.
Packaging for Costco should be designed with Costco employee and member safety in mind, as well as waste considerations, environmental impact, and overall ease and efficiency of transport and setup onto the sales floor.
Costco wants to eliminate packaging waste as well as fussy handling for their employees. If tray boxes are required, Costco wants them to be useful for members to use as carry-out boxes for their purchases. If packaging is not compliant, Costco may initiate a 2% "charge back" to compensate for extra employee handling. Or, if the packaging violation is egregious, the product can be removed altogether.
Here is an example of an optimum size for a tray box.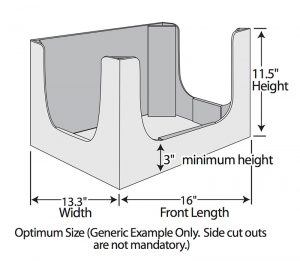 Just to give an idea of what packaging for Costco involves, here is a sample (far from exhaustive) of just some of the requirements you need to adhere to.
Packaging for Costco Must Be Engineered To:
–  Endure long transit, over 500 miles, without issue.
–  Withstand forklift and pallet jack handling using mechanical layer clamps
–  Tolerate  80-90% humidity
–  Withstand 4 weeks storage under it's own full pallet load weight
–  Cooler or freezer items must be able to bear refrigerated temperatures in a moist environment.
Costco General Pallet Requirements:
Each Pallet under 750lbs must be able to withstand 1500lbs of weight on the bottom product layer without damage.
Each Pallet over 751lbs must be able to withstand 2500lbs of weight on the bottom product layer without damage.
The pallet should be no larger than 48" x 40" (recommended is 47.5" x 39.5")
There should be no overhanging from the pallet and minimal under hanging of no less than 44" x 37").
No pallet can be taller than 58" which includes the 5.5" for the pallet itself.
Pallet's need to be stretch wrapped a minimum of 3 times from top to bottom using a minimum of 0.79 gauge stretch film.
Costco Also Has Specific Pallet Considerations for:
1. Products shipped in display-ready corrugated packaging
2. Fully enclosed corrugated shipping containers (when display packaging is not required)
3. Bagged products weighting over 10lbs (i.e., pet food, flour, sugar. rice)
Costco has much to say about the pallets themselves. For example, they will only accept pallets made by certain companies and these must adhere to certain regulations depending on which country the product is to be shipped.
The main thing to walk away with here is that, when you need packaging for Costco, or some other club store, it is imperative that you work with a packaging company that has the expertise needed. Also, Costco has different requirements and standards than does Sam's Club or BJ's Wholesale. So whichever Club Store you are dealing with, make sure your packaging supplier has the appropriate experience and knowledge. Be sure to ask for referrals from people who have had first-hand experience with a packaging supplier before you sign on the dotted line.
P.S.
Don't skimp on graphics. Use full color graphics on coated corrugated (which is white). The ink won't soak into these coated boards and as a result, will not look washed-out. Instead, the colors will be vibrant and sure to catch the customer's eye. This will be more expensive, but hey, you're going to be running with the big dogs at Costco now!
Copyright secured by Digiprove © 2015 Sara Torres-Greasley